Research: Aiding Women Candidates in Solomon Islands: Suggestions for Development Policy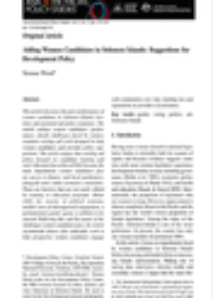 Research: Aiding Women Candidates in Solomon Islands: Suggestions for Development Policy
This research by Terrence Wood discusses the poor performance of women candidates in Solomon Islands elections and potential aid policy responses. The article outlines women candidates' performance, details challenges faced by women, examines existing aid work designed to help women candidates and provides policy suggestions.
The article argues that existing aid policy focused on candidate training and voter education has achieved little because the main impediments women candidates face are access to finance and local gatekeepers, alongside more subtle normative constraints. These are barriers that are not easily shifted by training or education programs.
Meanwhile, for reasons of political economy, another area of aid-supported engagement, a parliamentary gender quota, is unlikely to be enacted. Reflecting this, and the nature of the challenges women candidates face, the article recommends donors also undertake work to help prospective women candidates engage.
(Source: Wiley Online Library, Asia & the Pacific Policy studies)
Author: N/A
Institution: N/A
Date: May 20, 2021
File size and type: 0 bytes
Download