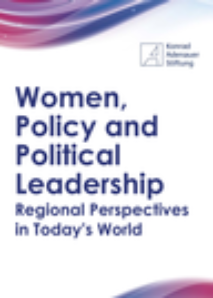 Report: Women Policy & Political Leadership: Regional perspectives in today's world
The Konrad-Adenauer-Stiftung (KAS) is a political foundation. The report aims to share perspectives on women in political leadership from the regions of Africa, America, Asia, Australiasia including a piece on Pacific trends, and Europe.
Women's participation in politics and their secure access to political life is very important for democratic development and sustainability. After overcoming stiff resistance and negotiating for their rights, women all over the world have mobilized across political lines and from the standpoints of different social and cultural status and ethnic affiliations to work towards the goal of gender equality. The hard work has paid off and there have indeed been positive changes in most regions of the world: the average number of women in parliament has increased from 15.7 percent in 2004 to nearly 22.2 percent in 2014; but we are still some way away from the Beijing Platform for Action target of 30 percent women in decision making positions.
Author: Women Policy & Political leadership
Institution: Konrad Adenauer Stiftung
File size and type: 3.29 MB
Download