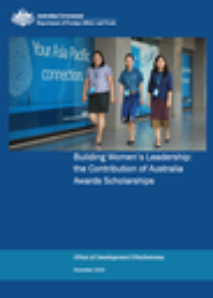 Building Women's Leadership: the Contribution of Australia Awards Scholarships
Since the 1950's Australia has provided scholarships for men and women from developing countries to study at Australian tertiary institutions to 'develop leadership potential'. Recipients are expected to 'make a significant contribution to their home countries as leaders in their field', and be part of an 'engaged and influential global network of leaders, advocates and change-makers'. The Office of Development Effectiveness evaluated the contribution that scholarships make to women's leadership. The evaluation included interviews, a document review, and a global analysis of tracer studies in which scholars are asked about experiences and outcomes after completion of their scholarship.
Actions needed to improve women's leadership outcomes from scholarships were identified. The evaluation found that: Most women are employed after returning home; Just over three quarters of women report having greater operational or technical responsibility, and just over half report having greater financial responsibility within the first three years of return from a scholarship; Most women move into higher positions after their scholarships; Almost all women and their supervisors felt that scholarships contributed to a great or medium extent to professional advancement.