A reflection on women and the role they play in Vanuatu's development – 40 years on
19th May, 2020
[By Godwin Ligo, Port Vila] On May 15 1980, just two months before Independence, civic and political women leaders decided to come together and form the first ever Vanuatu National Council of Women (VNCW). It was a desire to unite all women of Vanuatu, regardless of politics, religion, language and culture or islands, as the country was preparing for political independence.
Forty years later, on May 15 2020, the founding President, Lesline Malsungai, and the founding vice-President, Hilda Lini, teamed up together at a self-sponsored lunch, looking back at the challenges and the long road they had travelled over those years and the progress achieved by women in various fields of the country's development. After their self-sponsored lunch, Lesline and Hilda, as they preferred to be called, visited the Daily Post.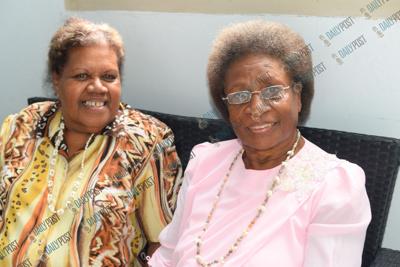 "We were talking on the phone about 40 years we have travelled, the challenges we faced along the way, and decided to have lunch just by ourselves and to chat about the good old days, actually," Hilda said, smiling as Lesline nodded in agreement. "There are times that you need to be less serious about politics of the past and today, and talk about the best things you want to see happen for your country, and especially the role of women in our vast growing society," said Lesline.
They agreed with the Daily Post that this is one of the agendas they could not put off, even during the lunch to remember 40 years of standing up, for women in Vanuatu's male dominated society. "Of course, we are both politicians, and we will continue to give our best to assist the women of Vanuatu to stand up for their rights, in politics and in other national developments," said Hilda.
They recalled that on May 15 1980, just two months away from the country's political Independence, the women of Vanuatu came together for one purpose and that was to establish a national council of women that would ensure that the importance and the interest of women during and after independence are not overridden by men leaders, and to ensure women take their rightful places in the national development of a new nation.
The Daily Post asked if these have been achieved so far as the country come to celebrate 40 years of political independence. Both Lesline and Hilda, agreed that women had achieved many goals, fulfilling the vision established 40 years ago, in many areas of the country's development but there are still areas of be addressed and redressed.
"Politics is one, and we find that back then, Lesline was elected into the then Representative Assembly and became the Deputy Speaker of Parliament, in 1977, and I was elected into Parliament also as an MP in 1987. We both ran on political party tickets, whereas today, you will find that almost all political parties in Vanuatu are predominantly male dominated," said Hilda.
"Unless women work in unity for the common good for all women in Vanuatu, especially to have a voice in parliament, men will always dominate the national parliament. Women of Vanuatu must rethink and unite to have a voice in parliament, but this is not all, there is so much more to do in order to get the women to gain their rightful places in many spheres of the development of our country.
SOURCE: Vanuatu Daily Post