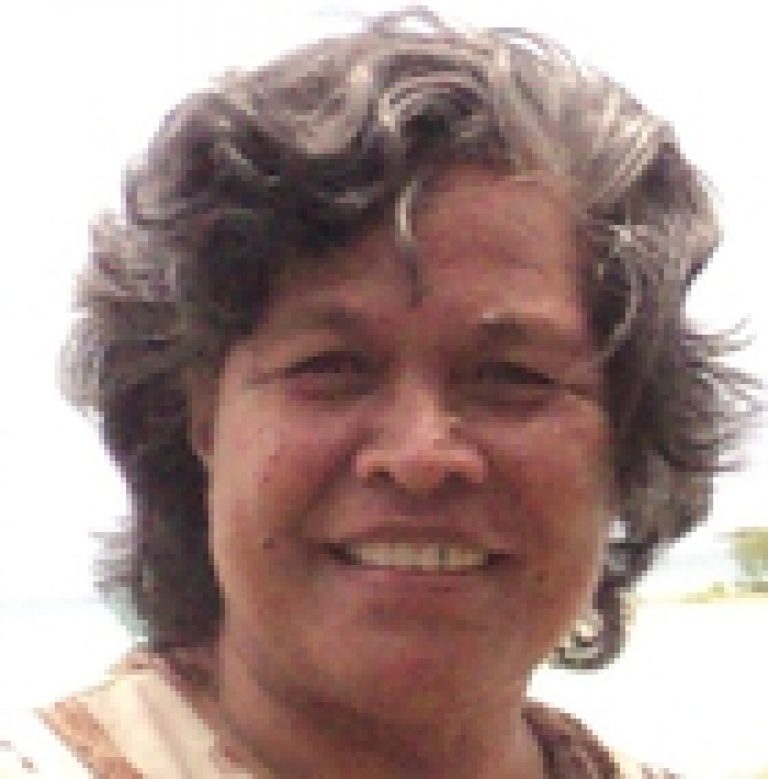 Hon. Maere Tekanene
Party: Boutokan Te Koaua (Government)
Term: N/A
Electorate: Tarawa
Province: South Tarawa
Political Status: Minister for Education
Biographical Data
Hon. Maere Tekanene is the Minister of Education and Member of Parliament for Tarawa Teinainano. Elected in October 2011, Hon. Tekanene has been serving the public as a leader in public enterprise, in the education sector and through dedication to the advancement of women for more than thirty years.
In addition to her role as MP, Hon. Tekanene is also currently the Kiribati Team Leader for Economic Empowerment of Women following nomination by the Vital Voices Project, as well as Team Leader for the Emerging Pacific Women Leaders Programme. She was Vice President of the Interim Kiribati Women in Politics Association from 2010-2011 and was Acting Secretary to Parliament Committees for the Kiribati House of Parliament from 2006-2007.
Hon. Tekanene was the Director of the Kiribati Handicraft and Local Produce from 2007 – 2009, and Director, Tarawa Biscuit Company from 2001-2006. She was Secretary to the Kiribati Chamber of Commerce from 2004-2007.
Hon. Tekanene obtained her Bachelor of Arts from James Cook University (1996), her Diploma Teaching English as a Second Language from Victoria University of Wellington (1991) and her Diploma in Education (Arts) from the University of the South Pacific (1981). During her career in Education she taught English, History, and Social Studies for more than ten years and worked as deputy Principal from 1997 – 2001 at Co Ed Government Secondary School.
Hon. Tekanene was the National Gender Officer based within the Kiribati Umbrella Women NGO, Aia Maea Ainen Kiribati (AMAK), from 2001-2003, and in 2004 she was engaged as local consultant to the Strategic Planning and Constitution Review Workshop concerned with the status for the AMAK.  Among important contributions to initiatives for the advancement of women in her career, Hon. Tekanene has acted as Partner Local Consultant on Gender Equality, Poverty and Education Goals for the first National Report on the Millennium Development Goals in collaboration with UNDP (2007) and on the Status of Women and CEDAW with the Pacific Foundation for the Advancement of Women (PACFAW; 2003).  She has also led research teams and provided technical support on projects in collaboration with UNICEF (2005-2006), UNDP, UNICEF and RRRT (2004) conducted gender analysis of the Kiribati Red Cross (2004), and provided consultancy to USP Marine Studies (2004), NZAID (2004), UNIFEM Pacific Office (2004) and UNESCO (2001). More recently, Maere was the Coordinator/Researcher and subsequently Team Leader for Dissemination of findings for the Gender-Based Violence and Child Abuse Study based at the Ministry of Internal and Social Affairs from 2007-2011.
Hon. Tekanene is a well-known advocate and educator in her community, supporting Kiribati youth to attend Youth parliament in Paris (2000), and providing ongoing mentorship as lecturer, facilitator, and resource person around local and regional gender awareness initiatives, and local private sector/micro-business initiatives.  With an enduring commitment to education, she participated in a Tutorial Network catering to youth school dropouts and has provided mentorship to the Kiribati Women Advocates on Violence Elimination, the Women in Politics Kiribati Network, and is President of the Relief Society in Church Group all on a voluntary basis.
Hon. Tekanene has four children, and enjoys reading, writing, walking and family time.  Her hobbies include meeting people and learning from their different experiences as well as small business ventures.