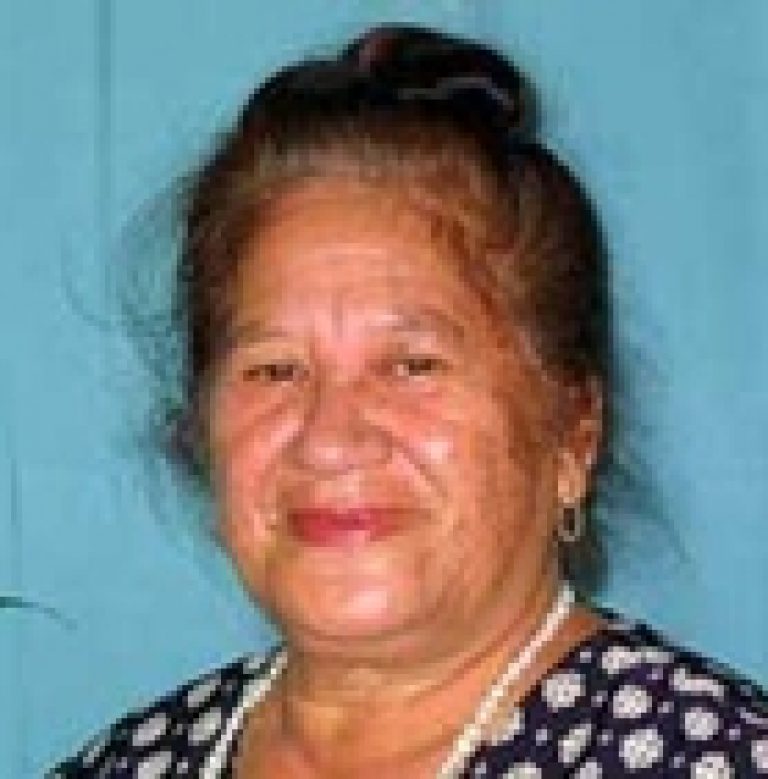 Hon. Ngamau Mere Munokoa
Party: Democratic Party
Electorate: Nikao/Panama
Province: N/A
Political Status: Member of Parliament
Hon. Ngamau Mere Munokoa OBE, also known as "Aunty Mau", was elected for a fifth term in Parliament 17 November 2010. Hon. Munokoa was appointed Officer of the Order of the British Empire (OBE) in 2010 for her services to the public service and the community. First elected as MP in the General Election of 1996, Hon. Munokoa was re-elected in the General Elections of 1999, 2004 and in the 26th September 2006, Snap Election.
Her first appointment to the Cabinet was from 1999 to 2002 as Minister of Internal Affairs and Works, the ministry responsible for the women's portfolio. She became the first woman to hold the post of Deputy Prime Minister by appointment at the end of 2003, a post to which she was again appointed in 2005. She continued to serve in Cabinet, holding the portfolio for Minister of Internal Affairs and Agriculture from 2005 to 2009 with the Ministry of works added to the portfolio in 2006. She has served as a Cabinet Minister longer than any other woman.
Hon. Munoka has served on various committees including the Local Government Select Committee (1997), the Health (Tobacco) Special Select Committee (1997), the Civil List Select Committee (2005) and the Unit Titles Special Select Committee (2005).
She pursued a career as a businesswoman before being elected to Parliament as MP for Nikao-Panama in 1996. Hon. Hon. Munokoa, owns and operates a very successful family business with her family which includes a grocery store, bakery and petrol station in Tereora, Nikao.
Hon. Munoka attended the Commonwealth Women Parliamentarians Pacific Region Gender and Democracy Seminar in March 2011 in Wellington, New Zealand where she was a speaker and participant. The aim was to promote legislation and parliamentary processes that support gender equality, participation of women in parliamentary and other practices and promote adherence to international treaty obligations.
She Attended the 6th Asian Women Parliamentarians' and Ministers' Conference in Ulaanbaatar, Mongolia, in September 2008 where she expressed the commitment of the Cook Islands government towards achieving the gender Millennium Development Goals by 2015 through a new policy planning unit within the Prime Minister's Office. In February 2007 she attended the international conference on Gender, Nation Building and the Role of Parliament hosted by the Forum of Rwandan Women Parliamentarians (FFRP). Parliamentarians from around the world were invited to attend but the only Pacific Island nation represented was the Cook Islands.
Among other conferences and trainings, Hon. Munoka attended Women's conferences in Kiribati in 1998 as well as in Fiji, Wellington and New York. She has also attended the CPA General Conferences in Fiji (2005), Bangladesh (2003), Australia (2001), United Kingdom (2000), Trinidad (1999), and New Zealand (1998).
Hon. Munokoa has been an enthusiastic proponent of youth involvement in civil education and advanced the "Youth Parliament" initiative aimed at involving youth from outer islands. She has also sought to increase community involvement in organized sport within her constituency. During her term as Minister of Sports she championed local and regional teams and sought to foster connections between visiting and local athletes.
Hon. Munokoa was born in Rarotonga and attended Arorangi, Avarua and Nikao Primary schools and Tereora College. She is dedicated to community service and enjoys supporting all community projects and activities in Nikao and Panama, especially in church, youth, women and sports.
Also see related information for Hon. Munokoa in the Cook Islands Parliament website.